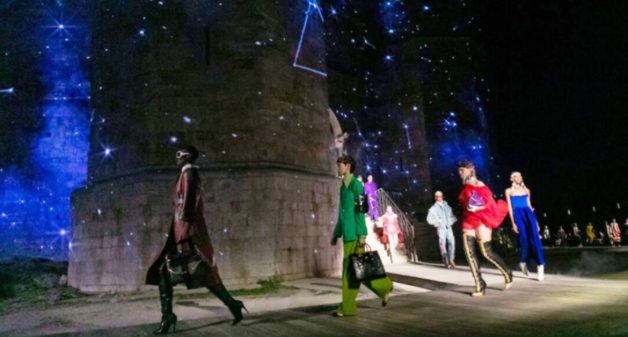 GUCCI RESORT 2023 TAKING US TO THE STARS
DENIZ AKKAYA
Gucci Resort 2023 collection titled "Cosmogonie" presented looks inspired by magical myths, stars and more.
Alessandro Michele chose to present Gucci Resort 2023 collection in Puglia, Italy this time. Titled "Cosmogonie," the runway took inspiration from constellations, showcasing garments with details referencing the stars and magical myths.
Set at a 13th century castle, the show was an ode to German philosopher Walter Benjamin, as Michele explained in the press notes. "Such an extraordinary ability to illuminate connections, which would otherwise be invisible, makes Benjamin the paradigmatic figure of those thinking in constellations," the designer wrote. "A term that he turns into a philosophical concept. What can seem, at first sight, atomized and dispersed, like the stars in the sky, through Benjamin's eyes becomes an assembly of complicity: a connective structure that lights up the darkness through the epiphany of a constellation."
"Cosmogonies" was born after Michele read the German philosopher Hannah Arendt's essay on Walter Benjamin. The two shared an intense intellectual exchange and bond, and following Benjamin's death in the early 1940s, Arendt published her biographical diary that recalled who she called a "precious Pearl Diver," while also recalling the moment the Gestapo confiscated Benjamin's library.
Peep the key looks from the Resort 2023 collection above and watch "Cosmogonie" down below.

---